Introduction | Artists| Fire Sculpture| Contact
Introduction to RiverLights Event
RiverLights in Ounaskoski beach
According to it's name, Riverlights is held aside Kemijoki river. The river plays an important role in northern myths concerning the period of darkness and disappearance of the sun, which makes it a natural venue for a northern fire art event.
Ounaskoski beach is probably somehow familiar to all Rovaniemi people. As a beach, a park, an outdoor recreation area and a venue for different kinds of culture and sports events it reaches the majority of townspeople. During winter, spring and summer the area is lively but in the autumn before the snowfall it quiets down almost totally. In november the atmosphere is barren, dark and somehow naked. Thus Riverlights can literally set the beach alight and give new meanings to familiar place. Fire captures time and space very concretely. Momentarily changing the physical character of the place it also changes its meanings. Fire's ability to give light alone is a powerful factor. Strong contrasts, for example water-fire, cold-warm and light-darkness, draw attention to the characteristics of the place in a certain time. "Organized" city and "savage" fire are also contrasted by the river between them.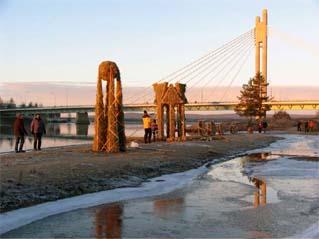 Fire Sculptures in Ounaskoski beach.
The principals of the RiverLights
The principal of the RiverLights Event is to organize a communal and environmental art event. Different communities and wide public is brought together trough making and experiencing art. From art world's perspective the groups differed a lot: some consist of professional artists, some have very little to do with so-called high art. This diversity is the very strenght of Riverlights.
Fire art is both fleeting and incalculable art form. Thus a fire art event cannot be evaluated with the criteria of high art. As an art event the Riverlights is unelitistic: it draws no boundaries between good or bad art and real or false artists. Co-working, co-experiencing and different perspectives and comprehensions about the theme enrich the event. Creativity and the joy of working together are also important elements in it.
During the last four years the Riverlights has stabilized it's position amid Rovaniemi's culture supply. It hasn't been profiled for any certain age or social class and thus the audience – 3 000 - 4 000 people – represents the whole of Rovaniemi.
The event's venue and theme express the importance of local history of culture. One goal in the project is to promote environmental education and spread knowledge about Rovaniemi's history of culture. A more philosophical goal is to deepen the interaction between man and nature.
Last but not least the Riverlights functions as an introduction to the technical and artistic requirements of fire art for the participants and the audience. The event brings forth an art form that's unknown to many.
11.8.2005 Maria Huhmarniemi